part-time instructorlecturer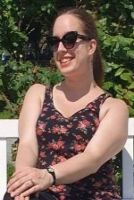 Szervezeti egység
University of Debrecen, Faculty of Humanities, Institute of English and American Studies, Non-independent Department of British Studies
Cím
4032 Debrecen, Egyetem tér 1.
Emelet, ajtó
Main Building (Egyetem tér Campus), floor 1, 104
---
Éva Szabó is a doctoral candidate Ph.D. student of the British Studies stream at the Doctoral School of Literature, University of Debrecen. Her field of research is neodomesticity in contemporary British women writers' fiction but her research interests include gender studies, the representation of traditional notions of femininity and mother-daughter relationships. In her dissertation she works with the texts of Kate Atkinson, Elizabeth Taylor, Ali Smith and Barbara Pym. She also studies food, feeding and nourishment in contemporary women writers' fiction and film.
Last update:
2023. 07. 20. 10:50