Granada
Gusztáv Szilágyi

MA in English Studies

Autumn Term, 2013/14

Universidad de Granada
I arrived in Granada at the beginning of September, 2013, bringing in my pocket my Erasmus scholarship for the autumn semester and the contact details of my Erasmus tutor. However, at the time, I didn't know where I was going to stay and I hardly spoke more than a few words in Spanish. As it turned out, finding accommodation wasn't a big challenge, the town is literally packed with adverts of flats and rooms for rent – which also indicates how vibrant student life is in Granada. On the other hand, I soon found out that at least an intermediate level of Spanish can come in handy, or rather it is absolutely necessary, especially for the quite complicated administrative process at the university. The amount of required paperwork combined with the "Spanish pace" made it difficult to meet the Erasmus deadlines. The structure of the English Studies at UGR is rather different in some respects from the one at the University of Debrecen (there are two lectures per week for each 6-credit-course; the teaching period is longer). However, all the courses that I attended could successfully complement my studies at the UD, I believe they all widened my academic horizon in a way. Besides, all the teachers were very knowledgeable, so I definitely recommend the University of Granada. Moreover, the city itself also offers the perfect environment for an Erasmus student: the lively and colourful cultural and student life, and the huge international community along with the Andalusian lifestyle create a fantastic atmosphere in Granada. No wonder it is one of the most visited and popular cities in Spain. For instance, the Alhambra palaces are truly unforgettable, just like the flamenco-nights, the street performers, the parks, and last but not least the free tapas. As an extra, due to its fortunate location, students in the city can hike in the snowy mountain ranges of the Sierra Nevada and enjoy the beaches of the Costa del Sol on the very same day, if they feel like it.
---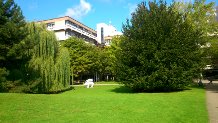 Dortmund
Júlia Erdélyi

BA in English Studies

Autumn Term, 2015/16

University of Dortmund
I can describe my Erasmus exchange in Dortmund only as the best experience I have ever had! I chose Dortmund because of the University and I didn't regret my decision as it is truly a student friendly city. I've met so many people from all over the world and during our stay we went through so much together that I have over 2000 photos to remind me of this amazing time until we have our first reunion in the upcoming spring. School in Germany starts only in mid-October, but it is better to go a month earlier as a free intensive language course is offered to all Erasmus students. Anyone who has ever studied abroad knows, the first two weeks are the hardest, it feels a bit awkward to use a new language. During these 3 weeks though, not only our language competence developed, we got so much more: a rich intercultural experience. Apart from getting better in German, it was a nice opportunity to get to know the other international students as well. I've met most of my friends during this time (mostly French, Italian, German, but I am also friends with students from Poland, Spain and Iran).
As for accommodation, dorms and apartments (Wohngemeinschaft) are both possible, and although the latter is cheaper – but still rather expensive by Hungarian standards –, I'd still recommend living in a dorm, as they are pretty close to Campus, while most of the apartments are in the centre. Not to mention the diversity and social life of the dorms, although it all depends on what we want! If we apply within a deadline, we will have a place in one of the dorms for sure. I myself lived 10 minutes from Uni with a Spanish and two French girls. We all had separate rooms, shared a big kitchen and two bathrooms. In terms of costs the first month can be quite difficult, as the scholarship (at least for me) arrived a bit late, and there are a lot of expenses. We need to have money to be able to pay for the first rent, plus there is an additional cost of 200 Euros. The latter involves a student pass for the whole semester for all kinds of transport (except for IC) in North Rhine-Westphalia. As we don't have to pay, it is a pretty nice way to travel through the region! We used this advantage as much as we could, there are a lot of nice places nearby that are worth visiting, like Cologne, Düsseldorf, Münster or even Amsterdam just to name a few! We have seen the best parts of Belgium, and have been to the famous Oktoberfest as well. ESN in Dortmund is also really helpful, they organise an awful lot of programs for us from trips to movie nights, international events and big big parties. Probably the best in these 6 months is the sparkling social life!
The university campus is huge, there are people everywhere, and we are never alone. The parties organized for Erasmus students are pretty amazing in the bars on campus, as well as in the nightclubs downtown. This already creates a very special bond among the Erasmus students. Finally, I would say that an Erasmus semester is a very influential experience, I cannot tell how much I got in terms of languages and cultures, but most importantly how much I grew as a person. After getting home, I wanted to live it through one more time. I'd encouage everyone to go as some of the best experiences in my life come from this Erasmus trip: wonderful adventures, extraordinary places, new culture and Friends for life!
---
Coimbra
Flóra Bajnay
BA in English Studies
Autumn Term, 2015/16
University of Coimbra
Within the Erasmus+ Student Mobility for Studies I had the chance to spend five unforgettable months in the city of Coimbra, Portugal. For most people, just as for me back then, the name of the city doesn`t say much. The surprise was all the greater to experience the student-based town`s centuries-old traditions, being part of the festivals organized especially for the students who are wearing those uniforms that inspired J. K. Rowling` s famous cloaks in Harry Potter. In a foreign country it was the best opportunity to learn how to stand on my own feet, how to manage things completely alone. Suddenly I felt that the entire world was at my feet. However, besides the numerous possibilities, travels and tons of fun, we cannot forget what we are there for: to study. It was also inspiring to experience another university`s teaching habits. I consider myself lucky to say that it was this small city where I could acquire all this. Now I have my very own Erasmus family full of students from all over the world with whom we have become inseparable during the semester. We haven`t even left, we are already planning to go back.
---
Paderborn
Evelyn Kovács

MA in English Studies

Autumn Term, 2014/15

University of Paderborn
I studied as an Erasmus student at the University of Paderborn in Germany in the autumn semester of 2014/2015. I think this semester was one of the best periods of my student life. I am very thankful to the University of Debrecen for providing me this opportunity. During my stay in Germany I made friends with people from all over the world. It was amazing to discover different cultures and languages. I really enjoyed the international dinners when I cooked with my Japanese, Chinese or Italian friends. It was really good to speak English and German every day. I improved my language and communication skills and I became more self-confident. The German students were very friendly, helpful and hospitable, they organized a lot of cultural exchange activities and a lot of trips for us.
I had the opportunity to visit Münich, the Neuschwanstein Castel, Berlin, Düsseldorf, Bonn and Cologne. I learned a lot about German history, culture and language, and I became more confident when speaking German. In the intensive German language course, called DSH course, I learnt from native speaker theachers. I could practice German and English at home as well. Living with German students in a shared flat is, I think, the best way of getting familiar with the new environment and of practicing the language. I had a wonderful time in Paderborn not only because of the trips, programmes and activities but also because I learnt a lot. The university offered me a lot of English courses to choose from, and there were different interesting topics we dealt with. It was great to have an insight into the German teaching methods and to see what the German students and professors are like.
At the University of Paderborn you can use a large library and there is the university cafeteria (Mensa) where you can eat quite cheaply and the food is pretty good. When you arrive you can buy your semester ticket. This entitles you to free travel on the entire public transport network for the entirety of Nordrheinwestfalen. With this semester ticket you can visit many of the largest cities in Germany. I visited a new place every weekend. I have no regrets about going on Erasmus and am very pleased I was given the chance to do so. I am glad I chose Paderborn, because it is a lovely and beautiful city.
 
Last update:
2023. 06. 08. 11:03